>
Thursday, April 30, 2009
My blog spells B-O-R-E-D and it's R-O-T-T-I-N-G.
Seriously there is nothing much for me to blog about. Pardon me.
Two people,
Three people,
Four people.
Melissa, Erwin and Brandon.
HAPPY 18th BIRTHDAY MELISSA.
WITH MANY LOVES FROM ME AND STAY PRETTY YO :D
And not forgetting another classmate, wai soe's birthday!!
Class photo again :)
Gosh. This week is so tiring! This weekend is not going to let me go again, there'll be a need for me to wake up very early from fri to sunday. That is super tiring, and it's going to make my health poor again.
AH, I think i need a schedule book, a small book. Think this memory of mine is getting worst, I have forgotten those dates and times that I am supposed to attend and do. Upcoming days will be pack with- Work,meeting cliques, tuition and my tons of homework!
Everyone heard of swine flu right? Be careful of that terrible disease, its so fatal! And it's almost around the world now. Cage yourself at home to prevent infected ! :) Take care !
Tuesday, April 28, 2009
Okay, pardon for my lazyness due to my packed schdule in school. Today's last lesson ended the latest in my whole life, it was the extra class that was arranged as night class . Textbooks are as heavy as a pile of metals, and as expensive as diamonds.
No idea why I am attending the NE talk tomorrow, which is going to makes me feel sleepy. Just attend for the sake of my Seal points. And I've just helped a number of classmates to register the programme, how good am I. :)
Having insufficient sleep is bad enough, adding on to the question marks that I gave during lecture is terrible. Cannot understand a single thing at all! :\ I'm going manage my time accordingly! Have sufficient sleep, and split the time accordingly to tutoring and working and my study times! Wa, tiring!>:
Not much time for me to surf the net , or facebook this few days. Chin ee (a good and pretty friend I knew in facebook!) told me all her embarrassing memories she had during the past years and I was laughing behind the screen. HAHA. More stories to go perhaps. :)

LAST BUT NOT LEAST,
MY CLASS PHOTO !
Saturday, April 25, 2009
Had a fun time @ airport, brought our notebooks out there to surf on wireless . Battery aint efficient enough, merely 3 hrs and it shuts everything off. Played with webcam on baby's notebook. Took alot of funny photos.
Oh, isnt world changing so fast? Slight changes in climates , and so in singapore's weather. Temperature is rising to the maximum 34 degree, holy freaking hot. It seems like the sun is going to hit us soon, yes it is. Everyone will burnt to death -.- 1333 days to say goodbye. Maya's calender stated it, and the pope now is the last or last 2nd pope on earth, and so therefore I believe it. Im wondering why am I studying now? Why not let me enjoy to my fullest for the next 4 yrs? Okay, stop my bullshitting.
Singapore is real bloody hot right now. Tucking myself into a cold bathtub is not going to help either. >:
His head is on fire!
1334 days to end of time.
A brief post about Jialing's 18th birthday celebration after school , which is so freaking tired. Lecture ended quite early, @ 11am, but walked aimlessly till the time goes 3plus.
Anyway, went to astons @ cathay to eat dinner together and spent time chatting outside plaza sing till we all got tired.
No where to go because we had no plans, plans we made were all destroyed.
Bought and brought the cake to jialing in the public. :)
Thats all for our night ! :)
ah, for one thing, i hate wearing jeans. No matter its skinny , straight cut or baggy ones. I hate wearing!
Thursday, April 23, 2009
I know my blog is going to rot soon,
its getting more dull.
Okay, changed my blog's main photo up there, took quite a few and find that the one that looks quite retarded suits my main photo up there. Is that picture ok ?
Woooooo, supposed to end @ 6pm today because I have a long break, 4 hrs. Lunch with baby outside my secondary school.
Went back school and attend OB lecture at 4pm, and guess what?
When my eyes are almost closed after 30mins of the lecture, the fire drill rang !
Everyone was excited and went cheering! We assemble @ the basketball court, and thats the end of our lecture! HAHAHA! Shiok eh.
Friday is tomorrow and it's always my favourite day when it comes to schooling.
I know you know why!
Wednesday, April 22, 2009
As dull as black.
Looking at the photos in folder listed 'HongKong', I missed the five days trip I had in there !
With free 4 nights stay at a luxurious apartment and some free meals from my aunt, the feeling is great compared to paying everything urself.
Didnt really seized the chance of enjoying myself to the fullest, and didnt really shopped to the max. Regretted not buying some stuffs when Im back in Singapore! I think my next journey to Hongkong will be in years time. Or PROBABLY next year.
Something I missed there most is their weather during the season when I was there. Windy, cooling and relaxing. Ah, shiok.
Anyway, there's nothing I can blog about these few days. I bet it'll be boring if Im blogging about my school everyday.
Someday I might just quit my 'blogger' status!
Tuesday, April 21, 2009
A stab that never kills.
Camera focusing on my shirt .
Anyway, had 3 hrs of my time in school today. Homework was given by my commskills teacher, and the homework totally suck. Seems like doing some journal during english lessons, which I need to use a random article to describe what the article is going to be about and this is what the individuals are going to present in class during the next lesson.
For one thing, I hate presenting because I dont speak well. Especially when comes to formal speaking, everything goes ping-piang! >:
I agree education needs alot of money, cheating my money! I am going to pay my notes/textbooks and bus concessions from now on. Textbooks are really e-x-p-e-n-s-i-v-e ley. Killer.
I need a part time job!!! >: Intro me please , pretty please.
Monday, April 20, 2009
First day in school
Welcome myself to tp, my first day of school today after my 6months of break. Had my very first lunch with my classmates, abit weird though. Still not very click yet. Just realised most of them was english-speaking.
Surprisingly the weather was not was warm as a few days back, which was a killer. It was so freaking hot that I could melt.
Anyway, 4pm was my first lecture- Marcoecons. It's damn boring, and I have lost in the world of some unknown island. Dont really understand some. It's only the introduction and im lost-.- maybe Im daydreaming. Wonder how my brother got distinction for that -.-
Baby came fetch me after the lecture ! yay.
I spent my last day of holiday and also a sunday at East Coast park with baby. Went over to rent bicycle to cycle together and went over to his house to watch Chucky. :)
Kinda miss blading, anyone wanna go blading ?
Labels: xoxo. Panyi rock you.
Sunday, April 19, 2009
First destination was Bugis with baby to buy my school stuffs and back to tampines alone to meet sis :) Long time since I meet her out! Yay, our 9 yrs of friendship still goes on and on ! Anyway, had a long talk together.
And went to simei to find my ex classmates at night. I no longer can label them as my classmates, and I cant stop them from making new friends ! Hope school days goes smoothly for them. I still love my 6 girls and my ex-classmates.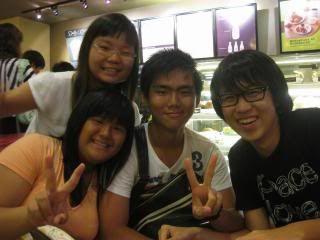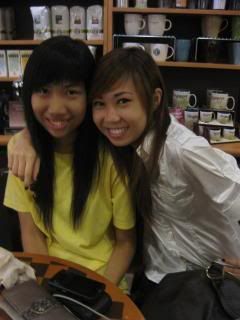 Some photos couldnt be uploaded ! Thus, different websites used to upload the photos.
Anyway, today is my last day of holiday! 6 Months of holidays just passed with a blink. I havent enjoy to my fullest yet! >:
Friday, April 17, 2009
Freshmen orientations
Shall do a little update about my 2 days orientation I had in TP on thurs and friday. Well, since I've been posted to be in 1b20, I have to learn to love my class for a year. Do I have a choice? I have quite a number of friends in BSG, but NONE of them is in my class. We have 20 over classes, so I only can blame on my luck.
Day 1 of orientation:
Went school with angela and meet the rest @ bus stop. Split into our own course and class in the auditorium, then everything starts off with speech and a little performance. It was quite of boring. Hoping to be in the same class as anyone that I knew, even a little. But it disappoints me, knew none of them. But I got to know a couple of my classmates at the end of the day, we chat probably less than 15-20 sentences. Leaders are more talkative and more enthusiasm than us ( of cos ) while everyone is so dead. Feel like joining the business studies club!
YA RU AND HUI SI :)
p/s : We are sweating! >:

Day 2 of orientation:
Went school with tjh and angela. Perhaps today is a little more fun than the 1st day. Spent the freaking and f.hot afternoon in the stadium. Western food for lunch again. Tolerating the heat is bad enough, yet I still have to squeeze with my classmates. Cant even move an inch, only can move my hand. And the food stayed by me for an hour without utensils! Slowly one by one, people left home, more spaces for me to breathe, and to move more freely. Stayed in the stadium for 3 hours and kept sweating like a running water, which makes me feel very sticky! AND I GOT SUNBURN!
I applied sunblock before leaving, but I still got sunburn! -.- damn. Left halfway, and went back to my Secondary school.
I took a video of my school's mass dance, but I cant seem to transfer to my laptop. Will upload when I've transfered. The mass dance is awesome !

Anyway, for my timetable, I finished at 6pm on monday and thurs. And I only need to go school for 3hrs on tues and wed !! :D
NO SCHOOL FOR ME NEXT WED ! Three cheers!

Thursday, April 16, 2009
My 1st day of orientation. How should I let words replace it ?
The night before going orientation, I was so excited to know my classmates. Now I have seen my classmates and also schoolmates.
Is it a bad or a good thing ? Well, I have no words to describe it. People can chat so much on the 1st day already, I hope I can too!
I find my leaders more fun. More click-able perhaps? Very enthu, I like it.
Mass dance was the best part of today's event.

Seen my timetable too.
Suddenly feel like going back secondary school to study and play with my friends. Sigh.
Wednesday, April 15, 2009
Pasir ris park.
Went to picnic with baby @ Pasir ris park! A very good day with no rain, but the weather is quite warm. Went downtown to get all those snacks and continued our journey over to coasta sands.
Pull out the mat and we're ready to picnic!
Isolated beach, with no one else.
I actually lie on the grass which is so gross.
Photos shall take over my words.
Didnt get to ride bicycle nor rent blades :( Spent our time there chatting until sun sets. Today is so relaxing which makes me feel enjoyed.
WinnieSeahPanYi
16Sept
Business graduate from TemasekPoly.
Email: seahwinnie155@Hotmail.com
Instagram: panyidesires
Winnie Seah
Create Your Badge
Read my Travel post:
Australia
Copenhagen
Frankfurt
Hongkong
Newyork
New Zealand
Maldives
Milan/Venice
Munich
Paris
San Fransico
Johannesberg
Taipei
HAIR SPONSOR:

Vintage Studios
SKIN CARE SPONSOR:

Hitachi- Hadacrie
CAMERA SPONSOR:

CASIO EXILIM TR150
Apparel sponsors:

Vogue Avenue
Joifeth
Other list of sponsors or advertising enquiry:
Please click here
_____________________________________
Click the picture to view my photos: