My laptop is driving me crazy , so does my desktop. Everything is so lag and I even have problems e-mailing photos using either my hotmail or yahoo account ! Just one photo, it loads for 30mins , and it is still loading! I tried 4-5 times ok! zzz.
Now, some photos cant be uploaded in my flickr nor my photobucket !! Only completed 3 photos, for the rest, its says error, error, error ! Damn. I TRIED FOR BLOODY 4 TIMES, USING MOZILLA AND INTERNET EXPLORER. Totally cant make it!. Even blogger's photo loader is against me! Cant get to upload. Hell, what is this. Or is there some problem with my photos ? I tried yesterday night, it couldnt upload, so I tried again today morning. Cant again!
WHY IS IT AGAINST ME!!

My patience is running out..........
Really running out....
A few days back Tp send a letter to me saying they didnt receive my cpf form or whatever form WHICH I HAVE ALREADY MAILED THEM.
NO CHOICE, I have to re-do and send them again. I SIGNED IN MY SINGPASS FOR 8 TIMES! STILL CANNOT. Other than that , I signed in my dad's account for 4 times ! Totally driving me crazy! I cannot take it anymore, I cried -.- Yes, so silly . Desmond helped me with everything, because I gave up doing, I throwed temper at everything at that moment.
Another problem pops up now. Couldnt find my phone's usb and mp4's usb cable!!!
It's not on my computer table, it's not in my room nor des's room! I cant do anything now. Cant send files, cant transfer my files which I've downloaded, cant upload photos and I cant charge my mp4 !
This is crazy , this is nuts!!!!!
LASTLY,
MY 8GB THUMBDRIVE IS MISSING TOO !
CAN I CRY ?
Forget it..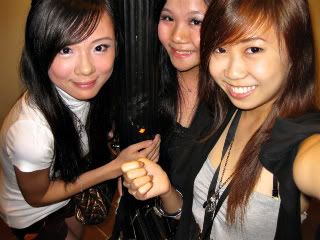 Know where I went on tues?
I WENT SWIMMING with my boyfriend! Ages since I swam, 1 year plus ago. Cool. Only swam a while, and we got so tired! Lousy! :p
And yesterday,
Queeny and laiman came over to my place to study. Out of the sudden, so randomly, we said we wanna go out at night since our schedule is so packed for the next few days .
We went to a pub at boat quay, O point.
After that , boyfriend came and free ride home in gulong's car ! :D